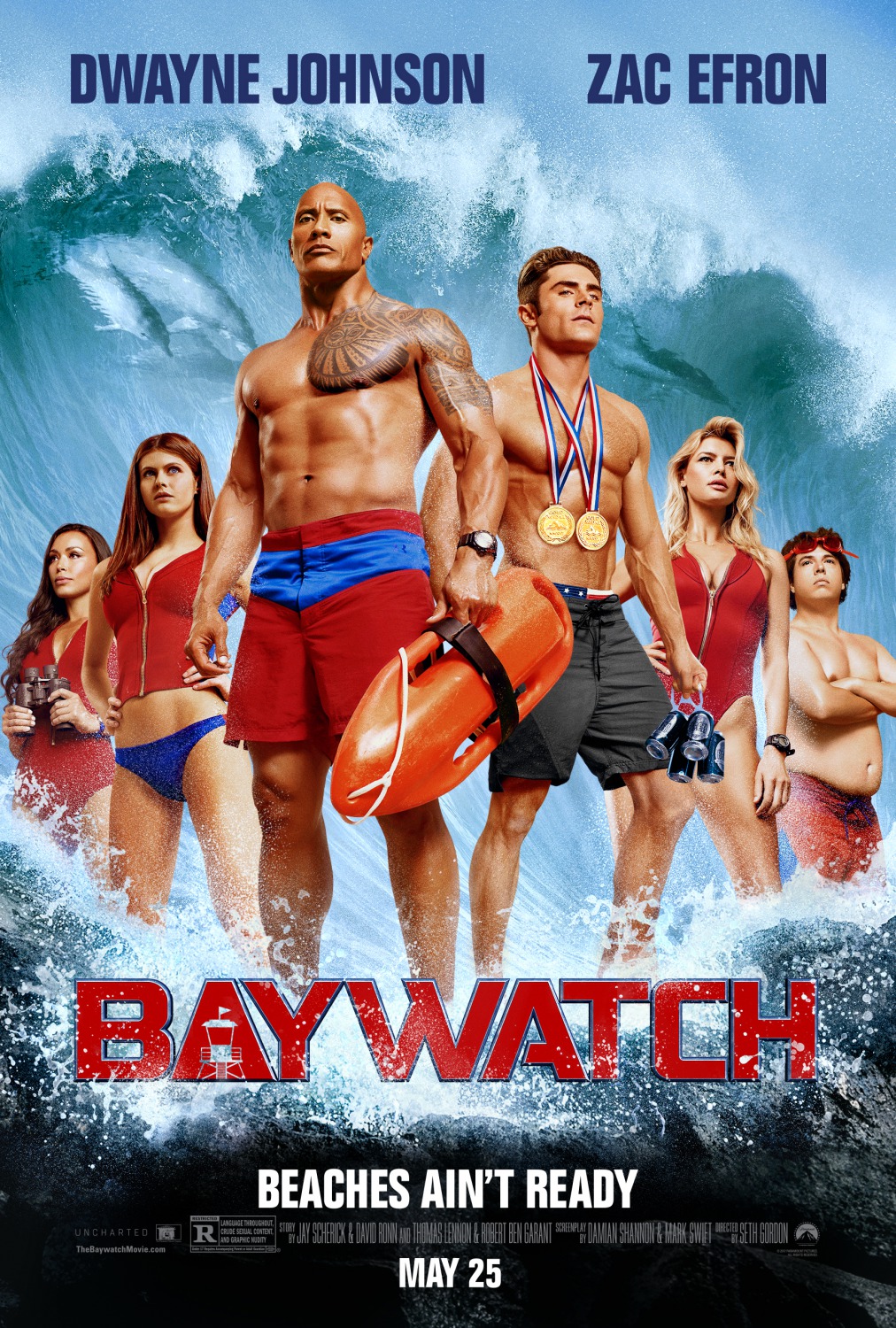 Well, we've got another theatrical revamp of a classic TV series on our hands. In this instance, it's an R-rated adaptation of the cult classic TV series about sexy lifeguards running in slow motion; Baywatch. Created by the trio of Michael Berk, Douglas Schwartz, and Gregory J. Bonann, Baywatch debuted in 1989 on NBC. It only lasted one season on the network but would see new life in syndication, ultimately ending at 11 seasons with a total of almost 250 episodes. The show, about a bunch of lifeguards who deal with all sorts of trouble, not just the stuff that happens on the beach, starred David Hasselhoff in the role of head lifeguard Mitch Buchannon. The show was also known for launching the career of Pamela Anderson, who starred in the role of lifeguard CJ Parker. Which brings us back to 2017 with this new adaptation that, as noted earlier, strives to be an R-rated action comedy. It certainly has some good people working on it; for one thing, it stars one of Hollywood's most charismatic stars, Dwayne 'The Rock' Johnson, in the role that Hasselhoff portrayed on TV. Add in other big names like Zac Efron and Priyanka Chopra and you have a promising ensemble cast. In the director's chair is Seth Gordon, who's had a solid career in the industry so far thanks to solid hits like his 2007 documentary The King of Kong: A Fistful of Quarters and one of the many surprise hits of 2011, Horrible Bosses. Seems like a solid assembly of cast and crew, right? Well, unfortunately, despite the best efforts of this film's cast, this new adaptation of Baywatch is one of the most underwhelming comedies in recent memory.
On a sunny beach in Florida, Mitch Buchannon (Dwayne Johnson) runs the beach's lifeguard division known as Baywatch alongside second-in-command Stephanie Holden (Ilfenesh Hadera) and veteran CJ Parker (Kelly Rohrbach). During their annual recruitment session, they end up bringing in three new recruits; Holden's friend Summer Quinn (Alexandria Daddario), nerd Ronnie (Jon Bass), who has a crush on CJ, and former Olympic swimmer Matt Brody (Zac Efron), who won two gold medals but embarrassed himself in a team relay event. Despite Mitch's insistence that Brody doesn't have what it takes to be a Baywatch lifeguard, his superior, Captain Thorne (Rob Huebel), encourages him to bring Brody onto the team to help keep the program running, as the city's been repeatedly cutting their funding. While this is going on, Mitch and crew start to find traces of drugs all over the beach. Things get even more complicated when the body of a city official winds up on the beach as well. Immediately, Mitch deduces that all the recent troubles on the beach are directly tied to businesswoman Victoria Leeds (Priyanka Chopra), the new owner of the local nightclub. Thus, despite being constantly reminded by his superiors that this type of work is beyond his jurisdiction, Mitch leads Brody and the team on an investigation into Leeds' operation.
Now, for the record, I have never watched a single episode of Baywatch prior to seeing this film. From what I've read, many feel that while the show was quite cheesy (we are, after all, talking about the show that's perhaps best known for the scenes where the lifeguards run in slow-motion), it was still rather entertaining to watch despite this. As for this new take on the franchise, though, from the perspective of someone who's generally unfamiliar with Baywatch, it doesn't seem like this film represents its source material in a positive light. Again, from what I've read, the show, despite its cheesiness, played things straight despite its rather ludicrous plot of lifeguards delving into non-lifeguard situations. The film, though, strives to be a comedy, which is perfectly fine… except the jokes REALLY don't hit here. I mean, the film isn't completely humorless; there are a few chuckle-worthy moments here and there. But overall, in terms of humor, this has one of the worst hit-to-miss ratios that I've ever seen in a comedy. I wouldn't say that this is because the film tries too hard to be an R-rated comedy, complete with numerous sex jokes as well as some jokes that poke fun at some of the show's campier elements. In fact, I'd dare say that the film is quite tame compared to other hardcore R-rated comedies. At the end of the day, it's just a mediocre screenplay. And as for the film's other element taken from the show, the action, it's not much better. I mean, the chase sequences are handled fine for the most part. The fight sequences, though, are another story, as those suffer from some very erratic editing.
It's a shame, really, that the film is severely lacking in humor because it comes at the expense of a solidly assembled ensemble cast. While it seems like everyone on the cast had a lot of fun making this film, most of them get stuck with mediocre material; not just in terms of humor, but also in terms of character development, which is practically non-existent save for Brody's arc of trying to redeem himself after his colossal screw-up at the Olympics. And even then, the film's handling of that plotline is iffy at best. Dwayne 'The Rock' Johnson and Zac Efron do have great camaraderie with each other and both have proven themselves to be great in other comedies… but here, neither of them get anything to work with. The same goes for Priyanka Chopra as the main villain, Victoria Leeds. Again, she's clearly having a lot of fun playing a villainous character… and yet she doesn't get anything to work with. This is the same situation for the other female leads in the film as well, like Alexandria Daddario and Kelly Rohrbach. They're generally underutilized in favor of Mitch and Brody, who of course as I just noted earlier, don't get much to work with either. Ultimately, the biggest standouts of the film end up being members of the supporting cast. Jon Bass does get a lot of the best moments in the film as the nerdy Ronnie, mainly through his attempts to flirt with CJ. General newcomer Yahya Abdul-Mateen II also gets some funny lines as Sgt. Ellerbee, who constantly reminds Mitch and the Baywatch crew that they're not the police; they're just lifeguards.
Oh boy… this one was a major dud. It's a shame, really, because they were really building this film up to be the big comedy hit of the summer. Just look at all the marketing that went into this. Unfortunately, though, the film ends up being a disastrous adaptation of a popular TV show. I honestly don't know what went wrong here; it's not really because of the film trying to be an R-rated take on Baywatch. In fact, the film doesn't even really live up to what it wants to be, as it's one of the tamest R-rated comedies in recent years. If they truly wanted to make it a 'hard-R' comedy, they should've just gone all the way with it. And as for the humor, most of the jokes ultimately land with a thud instead of a bang. Thus, the film's cast is stuck with mediocre material packaged around an equally mediocre plot (Disclaimer: I'm not going to compare this to the film adaptation of 21 Jump Street, which has a similar plot, like a lot of other critics have been doing). Like I said before, I've never seen the original Baywatch series. I probably will check it out someday, but as far as this film is concerned? Let's just say that if you're like me and you've never watched Baywatch before, this film doesn't paint a positive image of the show at all! I mean, I know that the show is not considered to be a masterpiece or anything, but I'm sure that it's at least better than this.
Rating: 1/5