As many of you know, when Batman v Superman: Dawn of Justice was released in theaters this past March, things didn't turn out as well as Warner Bros. had hoped for their big superhero epic that was set to start off DC's own 'Cinematic Universe'. The film was absolutely savaged by critics and even though, like its predecessor Man of Steel, it did have its fair share of fans this time around its critics were much more vocal in expressing their disdain for the film. And while it certainly did well at the box-office, grossing over $872 million worldwide, somehow it was still deemed a 'box-office failure' due to the fact that it didn't reach the studio's expected goal of $1 billion (this, folks, is why I'm not in the box-office industry… how nearly $900 million worldwide is supposed to be a failure is beyond me). But while many found the film to be quite underwhelming, a lot of folks were looking ahead to the film's home media release. Because prior to the film's theatrical release, director Zack Snyder had noted that his original cut of the film was around three hours long before it was cut down to the theatrical cut's 151-minute runtime. But as for the original cut, Snyder confirmed that it would be released with the theatrical cut upon the film's release to Blu-Ray, DVD, and digital outlets. And now with this new R-rated 'Ultimate Edition', fans finally get to see Snyder's true vision for the film. So with that said, considering that I actually was a fan of the film's theatrical cut, even when taking all of its faults into account, what are my thoughts on the 'Ultimate Edition'? More importantly, can this new version of the film do enough to change the minds of those who didn't like it the first time?
Well I'm pleased to report that the Ultimate Edition of Batman v Superman: Dawn of Justice IS indeed the superior cut. The main reason for this is simple; because the film is allowed to breathe at a run-time of just over three hours, the film's plot flows much smoother than it did in the theatrical cut. As a result, certain scenes that some folks felt were rushed and underdeveloped have much more weight to them. For example, a commonly derided scene in the film was the opening action sequence in Africa, in which Superman saves Lois from a group of terrorists but is then deemed as the one responsible for a series of deaths that occurred during the attack. The Ultimate Edition shows more of this sequence, not only showing said deaths (many of which weren't actually seen in the theatrical cut) but also giving audiences a greater sense of what really happened and how Lex Luthor used this incident to turn the world against Superman. On that note, Lex's overall plan to combat Superman is much more detailed in this version, namely in regards to how he blackmails certain people into doing his dirty work as well as how Lois investigates the whole conspiracy. Remember the scene in the courtroom where Superman wasn't able to detect the bomb hidden inside Wallace Keefe's wheelchair? Well as explained in the Ultimate Edition, the chair was lead-lined so yes, there was a reason why Superman didn't notice it. As far as the action is concerned, there's not really that much added in this cut. There's more of the Africa attack, which has quite a few cases of bloodshed as soldiers are shot by Anatoli and his men, and the scene in which Batman brutally takes down Anatoli and his men as he rescues Martha is certainly much more intense with shots that no doubt had to be cut to appease the censors. But for the most part, the new additions are mostly story based.
Now with all of this said, I can't really say that this film will completely win over everyone who wasn't a fan of the film's theatrical cut. Because in terms of overall execution, this newer cut still maintains the same general style/vision of its trimmed counterpart. It's still very serious in tone with only a few quips from characters like Alfred and Perry White to lighten up the mood. Jesse Eisenberg's polarizing portrayal of Lex Luthor is still the same polarizing performance that you either liked or were annoyed by. The highly anticipated fight between Batman and Superman is still only a small part of a bigger story and no the Ultimate Edition doesn't add anything to that scene. And the whole scene in which Wonder Woman views the video files on other meta-humans like Flash and Aquaman is still done in the same manner. Like with Man of Steel, it really all comes down to how you view the way this film's story is told. And as for me, as I've gone over before, I was fine with plenty of the choices that Snyder made with this film, from how they introduced the other members of the Justice League to, yes, even that controversial 'Martha' scene that the internet constantly mocked. At the end of the day, the most important thing that the Ultimate Edition does is that it fixes quite a few narrative issues that critics/audiences pointed out when it was released, namely in regards to Lex's whole conspiracy plan. And the choppy editing that sometimes plagued the theatrical cut in scenes like the Africa attack is much smoother as a result.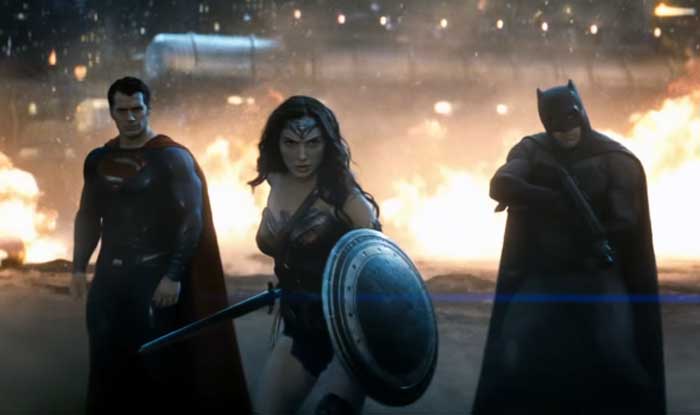 So the big question now is why did Warner Bros end up cutting so much out of the film when it was released in theaters? At this point I'm sure that it wasn't due to the stuff in the film that would've warranted an R-rating, like the bloodier action in Africa or the brief glimpse of Ben Affleck's butt during a scene in which Bruce takes a shower, because those additions are only minor at best. And besides, as we all know, the MPAA can be pretty damn lenient when it comes to stuff like that. No at the end of the day the bigger concern was why they cut so much out of the film to the point where it hindered the plot. Well with that said, it's pretty darn clear as to why Snyder was forced to cut out so much… time constraints. As Snyder himself put it, he just didn't have the same kind of creative clout that someone like James Cameron has to the point where he could get his full 3-hour long cut of the film released. But the thing is… even though the Ultimate Edition is 30 minutes longer than the theatrical cut, I still would've gone to see the film in theaters if it was released in its uncut form. I would have totally sat in that theater for three hours if it meant that I would be able to see the film as Snyder fully envisioned it. I do agree with the argument that if this cut of the film was the one that was shown in theaters, I bet it would've done much better with critics. Granted, I don't think that it would've been outright critically acclaimed like some of the MCU films but at the very least I think it would've at least been on the same level as its predecessor, hovering somewhere around the 50% range on Rotten Tomatoes.
So with all of this in mind, here are my thoughts on how people will probably respond to this Ultimate Edition. If you were someone who absolutely hated the film and pretty much everything in it, then it's safe to say that you're probably not going to like this newer cut any better because it's still the same kind of film as its theatrical cut. But if you're someone who didn't hate it but was more on the fence about it (in other words, you'd give it a rating somewhere around 2.5/5 or so), then I think that at the very least you'll like this newer version a bit more because it does fix quite a few of the narrative issues that most people had with the film's theatrical cut. And as for those who did love the film when it was released, well, this newer cut is just going to be even more satisfying. Now like I said before, I did like the film as it was in its theatrical cut. Yeah it did have some major problems when it came to editing and the narrative but I do feel that Snyder managed to overcome that, for the most part, with an excellent visual style, impressive debuts by Ben Affleck and Gal Gadot as Batman and Wonder Woman, respectively, and a strong third act with an effective emotional finale revolving around the death of Superman. Since the Ultimate Edition was released, I've seen quite a few people online say that they're not going to watch the theatrical cut anymore now that this superior cut is out. As for me, I'm not going to outright disown that cut because as I've been saying numerous times, it wasn't 'that bad'. But at the end of the day, the Ultimate Edition really is the true version of Batman v Superman. Here's hoping something like this doesn't happen again with Justice League.
Rating: Originally I gave Batman v Superman: Dawn of Justice, as it was when it was first released in theaters, a 3.5/5 rating. When I went to go see the film a second time, I actually bumped my rating up to a 4/5 because I got a greater understanding of the story's emotional depth. So with all of that said, I will give the Ultimate Edition a 4.5/5 due to the fact that it did fix two major issues that most had with the film, resulting in a much stronger narrative.