While they are technically classified as horror films, admittedly it's hard to describe the Purge films as just that, 'horror films'. That's because they're more along the lines of a series of action-thrillers, particularly in regards to the two sequels. Still, this franchise of low-budget action-thrillers, directed by longtime screenwriter James DeMonaco and co-produced by Jason Blum and Michael Bay through their respective production companies, has been a considerably large hit for Universal since it debuted back in 2013. The premise is simple; every year on one night in March, all crime, including murder, is legal for twelve hours. This means that it's every person for themselves without any sort of assistance from the police, fire department, or emergency services. And whereas the first Purge was primarily set within the confines of a single home, the two sequels expanded upon this universe and began to explore just what happens out there on the streets during 'Purge Night'. Ultimately, though, the Purge films have been more of a commercial success than they have been a critical success, with all three films being criticized for not fully living up to their potential in regards to the potential social commentary/satire that comes from their premise. Now, as someone who's not a big horror fan (despite what I just said about these films not being horror films), I didn't see any of these films in theaters. However, I did start to get curious when I learned that the third film, Election Year, was filmed in Woonsocket, Rhode Island, very close to where I live. And while, again, I ultimately didn't see the film in theaters, I did recently get a free rental of it as part of a rewards program that I'm a member of. So, I decided to rent the other two films and do a trilogy retrospective on this smash hit of a franchise. So, without further ado, put on your scary masks and prepare for a night of unabashed craziness as I look back upon the Purge trilogy.
THE PURGE (2013)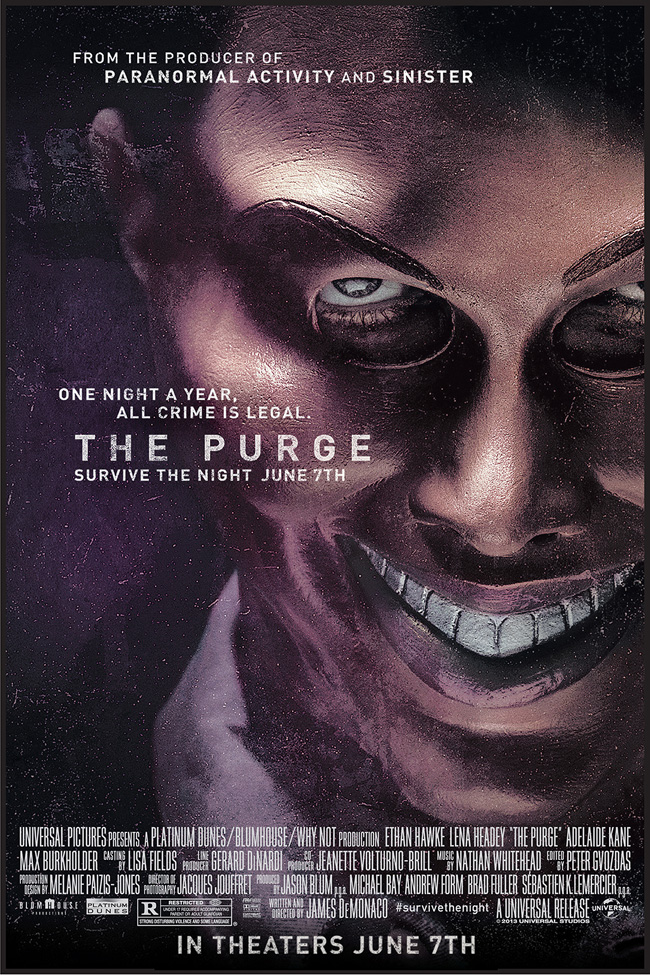 As noted in the intro, despite the overarching 'all crime is legal' premise, the first Purge film is primarily set within the confines of a regular suburban home. And ultimately that does prove to be the film's biggest problem. For one thing, it obviously limits the mayhem that goes on during Purge Night because it just focuses in on one gang terrorizing one family just because the latter let in one of their targets for protection. But then there's also the fact that most of the film takes place within a darkened house because the gang cuts the family's power. This results in a pretty dull 'claustrophobic thriller' that tries to be way too serious despite various bits of over-the-top goofiness courtesy of the gang members. And this is made even worse by the fact that you don't give a crap about any of the main characters; main characters who, might I add, make some very terrible decisions that defy all logic. Yes, 'logic' isn't a primary concern in this film. It's the first film of the series and it doesn't do much to explain the logistics behind Purge night, something that many agree seems totally unrealistic for various reasons, other than the fact that 'it just works'. Sure, Ethan Hawke and Lena Headey do fine enough jobs in the lead roles and Rhys Wakefield does steal the show as the gang leader but overall The Purge is a pretty lousy attempt at being a 'horror' film, complete with one of the most anti-climactic endings that I've ever seen. Thankfully, things would only get better from here by way of the sequels.
Rating: 2/5
THE PURGE: ANARCHY (2014)
Thankfully with the first Purge sequel, The Purge: Anarchy, director James DeMonaco moves the action and craziness that comes from Purge Night away from a single house and out onto the streets, in this case the streets of downtown Los Angeles. Even better, the film gives us a much more compelling lead in the form of Frank Grillo's Sergeant Leo Barnes (Disclaimer: his full name isn't revealed until the next film), a man who goes out on Purge Night to avenge the death of his son but ends up taking on the responsibility of protecting other people that are stuck out on Purge Night; Eva and Cali, a mother and daughter who were forced out of their home by a paramilitary squad, and Shane and Liz, a couple whose car broke down before they could get home and escape a biker gang that had been pursuing them. Sure, the characters still make some dumb decisions from time to time but overall these aren't as prevalent as they were in the last film. And while it's still a low-budget film overall, the costume design and action set-pieces are much stronger than those in the first film. In short, Anarchy is a definite improvement over the original Purge because it benefits from a bigger budget and the freedom to go outside onto the streets. It still doesn't reach the full potential of its premise but at the very least, this one does hold your interest more. Because even if you still don't buy the whole premise of a night where all crime is legal, at least this one explores more of this world of, for lack of a better term, anarchy.
Rating: 3.5/5
THE PURGE: ELECTION YEAR (2016)
And finally, there's The Purge: Election Year, a fitting title considering that it was just released earlier this year. Frank Grillo returns as Leo Barnes as he now serves as the head of security for Senator Charlie Roan (Elizabeth Mitchell), who's running for President on the platform of getting rid of the Purge once and for all. But that gets much more difficult on Purge Night when her political opponents, the New Founding Fathers of America AKA the ones who created the Purge in the first place, try to get rid of her by forcing the two of them out onto the streets. And while Election Year does still have some of the story problems of its two predecessors, this ends up being my favorite of the whole bunch. And no, it's not just because this was filmed near where I live. To me, this one is the most consistent in terms of tone. Whereas the previous two films had a more serious vibe to them, this one is now fully embracing the completely over-the-top nature of its premise. Sure, there are some very questionable bits of dialogue in this entry (most of which come courtesy of shop owner Joe Dixon, played by Mykelti Williamson (simply put, "Goodnight, Blue Cheese!")), more so than the previous two films, and the characters do still make some questionable decisions here and there. But even if it's not saying much, this film has the best (or at least the most 'likable') group of main characters of any film in the entire series, once again led by Grillo's badass lead. And once again, I must give credit to the fact that these films keep upping the ante when it comes to costume design and action set-pieces, with this film delivering some of the series' most truly messed up imagery. Again, when you get down to it, there's a lot of stupid parts of this premise but this one recognizes it the most out of any Purge film. Thus, it's arguably the most entertaining of them all.
Rating: 4/5
And that's the end of my retrospective on the Purge films. For those who are newcomers to the franchise, I can safely say that you can honestly skip the first film because nothing in that film carries over to the other films. Just stick to the superior sequels, Anarchy and Election Year.